Gene Find Project
"In the beginning there was nothing, and it exploded"
~ Terry Pratchett (on the big bang theory)
B
ack in September when I was sitting in the emergency room waiting to be treated for my ruptured bicep I saw an interesting pamphlet posted on the bulletin board: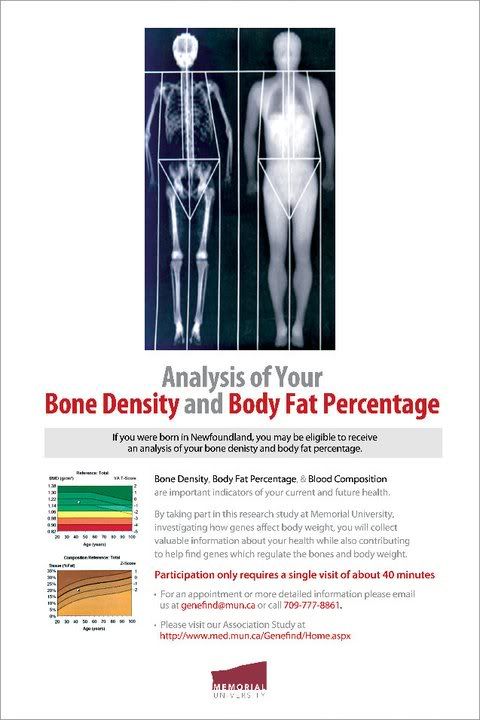 The study is called the "Gene Find Project", and it's a study that uses bone density, body composition & a blood sample to try and identify the gene(s) in our genetic makeup that lead to or influence obesity. The study's
Facebook page
&
website
have some additional information.
I was really excited right up until I saw the part about being born in Newfoundland.... which I'm not. I contacted them anyways and they sent me the enrollment forms which I never bothered to fill in because it was spelled out in plain English that I didn't meet the requirements.
As usual I was researching stuff on the internet when I thought about the Gene Find Project, and I couldn't remember the name of the scan that they used for the study. Turns out it's called a DXA Scan (Dual-energy X-ray Absorptiometry), which is the same as a DEXA Scan...... some people/organizations use the "E" for "Energy" and others don't.
Basically it's a low dose x-ray machine that measures bone density, body fat percentage and fat distribution.
Here's a couple video's that I found very informative on the DEXA Scan:
All future video's that I find will be saved in my
YouTube Playlist
.
After finding out what it was I tried searching for somewhere that I could pay to have one done. As it turns out the only place I found in Canada that offered a paid for service for this scan was in Vancouver and I figured the +14000 km round trip was a bit much for a scan.
In a last ditch hope I contacted the research team at MUN (Memorial University) and asked them if I could pay for a scan, or if there was any other options available to me. I let them know in my email that neither myself or my family were born in Newfoundland & that I knew I didn't qualify for the study. A couple days later I received asking where my parents and I were born. I let them know that my father was born in Ontario and that my mother and I were both born in Barrow-In-Furness, located in England.
A day after my response I received a message telling me that I could come in on Wed, March 14th to participate in the study. I can't tell you how excited this made me. A lot of Newfoundlanders came from England, Ireland and Scotland, so I'm guessing that my British heritage allowed me to participate. I really don't need the scan/analysis to tell me that I'm obese, but I really wanted to get all the facts, so I can understand just how bad of a predicament I'm in.
In case you're not aware a DEX scan is the most accurate measurement of body fat % and unlike any other measurement it can show you exactly where it's distributed.
While I'm reluctant to post pictures, I will post the results of the scan.

Labels: Announcements, Links, Video's