Blast From the Past
"Yesterday is gone. Tomorrow has not yet come. We have only today. Let us begin."
~ Mother Teresa
O
ne of the recent documentaries that I watched recommended gathering up photographs from a time where you were happier with your self image to help you visualize what you will look like as you progress towards your weight loss goal.
Easier Said than done.
It took me awhile, but I was able to dig up 2 photographs that I have always been happy with. Here they are: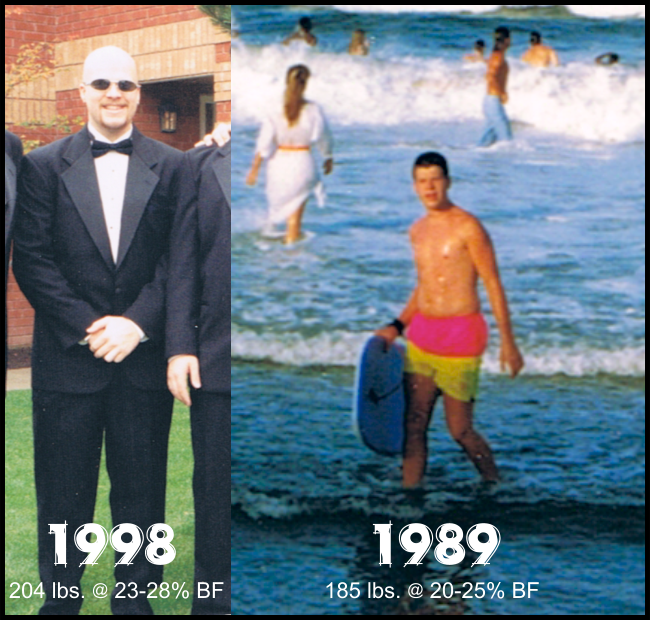 1998 Photo:
was taken the day my brother was getting married. I was 25 years old at the time and I had recently lost about 20 pounds. My self confidence was pretty high and although I still had a high body fat percentage, I was far more at ease in my own skin. This was also the only time in my life where my weight remained below 220 lbs. for an extended period of time.
1989 Photo:
was taken on a trip to Virgina Beach. I was only 16 at the time. The picture is a bit blurry because the picture was taken from a long distance away, and in reality I'm only about 3/4" tall in the picture. I cropped the photo and zoomed in to obtain what you see above.
It was during my previous 2 years that I had put on a ton of weight, but by this point I had really started to come around. I was far more active and I had also near the end of my last growth spurt (I was only 5 feet tall when I started High School and I was probably about 5' 9" in this photo). This photo is the only picture I have without a t-shirt on past the age of around 8. This was also one of the only times I've ever gone shirtless in public. I can remember being surprised at just how athletic I looked in the image (remember I was only 3/4" in the real picture) and I felt good about myself.
Body Fat %:
Although the listed weight is almost dead on, the body fat percentage range listed represents my best guess based on the many years I've kept track of my BF% since obtaining my scale, and from the following image found
here
:

I'm keeping both of these pictures at my computer desk to help me visualize what I will look like in the not too distant future. Visualizing a better you helps to break down the self image barriers that those of us who struggle with weight tend to have. Hopefully these pictures will help me do just that.

Labels: About Me